Thyroid dysfunction is on the rise. Stress and nervous system fatigue are major root causes of thyroid dysfunction. If you fail to rest and recover post-exercise or get enough sleep after long days at the office, high stress levels can derail healthy thyroid function.
Similarly, if you exercise too much, it may worsen fatigue, focus and weight gain, along with common symptoms of thyroid dysfunction.
Most people struggling with fatigue and weight gain try to compensate by increasing their training volume (sometimes dramatically). Unfortunately, spending more time in the gym or sweating it out on the treadmill can worsen cortisol stress response and start a downward spiral of adverse thyroid symptoms.(1,2)
Are you struggling with a Thyroid condition? We've created a FREE guide that shows you how you can heal your thyroid.
Click here to get your FREE copy of our Thyroid Guide!
This is a common scenario in clinical practice; clients invest a lot of effort in their training, which yields minimal (or negative) results. The solution isn't more exercise, but rather "more efficient" exercise.
The Top 4 Benefits of HIIT Training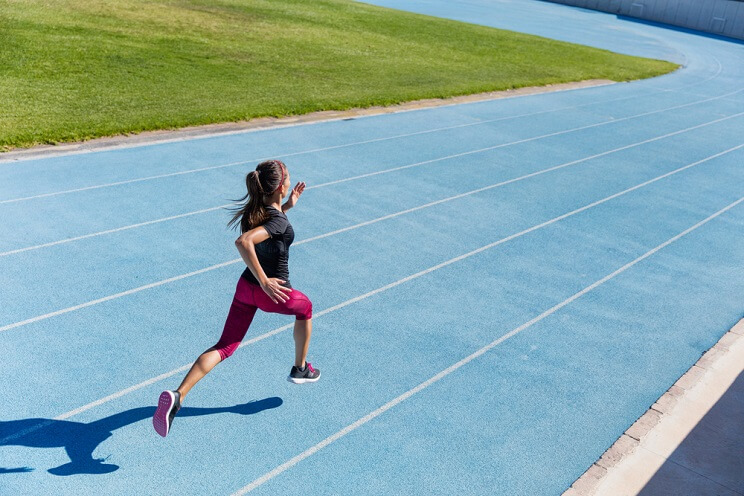 Rather than trying to outrun your fatigue (or weight gain), shift your focus to quality exercise. What is the minimum effective dose you need to achieve your goals? How little exercise do you have to do to maximize your benefits? This is where high-intensity interval training (HIIT) is a fantastic solution. It's time efficient, improves overall health, and is a great way to burn fat!
How efficient is HIIT training? Researcher Dr. Martin Gibala, PhD, of McMaster University revealed that three minutes of exercise per week generated the same improvement in physical fitness after 12 weeks as the 150 minutes (the standard government recommendations).(3)
By dramatically reducing your training volume compared to steady-state cardio, you can reap a number of HIIT benefits for health and improved body composition. HIIT also translates to fewer hours of steady-state cardio, which can tax your nervous system and require more time to recover.
1. Increased Energy
Mitochondria are special structures inside your cells that produce energy. The more mitochondria you have, the greater your capacity to produce energy (i.e., in the form of ATP, the body's energy currency). Being overweight, out of shape and struggling with inflammation impairs mitochondrial function and leads to fatigue.(4) [tweet_quote]Fatigue is a common symptom of thyroid dysfunction. HIIT training can help restore energy.[/tweet_quote]
The best way to grow more mitochondria is through exercise, and HIIT training is the most time efficient way to do it! (5, 6) Fatigue is a common symptom of thyroid dysfunction, and a great way to get your health back on track is to increase your energy-producing mitochondria with HIIT training.
2. Burns More Fat
Having more mitochondria has another key benefit: it allows you to burn more body fat. The more mitochondria you have, the more fat-burning furnaces in your body to convert excess weight into energy.(7) While HIIT training is not better than standard steady-state for building mitochondria, you can accomplish the same result in dramatically less time. This is a major bonus for thyroid sufferers, as low energy means they're often less likely to engage in longer bouts of exercise.
3. Improved Fitness
Most people assume if you spend less time training, you're less likely to be as fit or lean. This is untrue. In Dr. Gibala's groundbreaking study mentioned above, he compared the effects of a 10-minute per week time commitment (i.e., three HIIT sessions) versus 150 minutes of steady-state cardio. His research team found fitness levels increased by 19% in both groups despite the fact the HIIT group trained 5x less than the standard aerobic group.(8) In short, it's the quality of your effort that matters, not the quantity.
4. Improved Blood Sugar Control
The better your blood sugar control, the better your overall health. The same goes for thyroid function. Chronically high blood sugar and insulin levels are another common root cause of thyroid dysfunction.(9) Studies show significant improvement in both blood glucose and insulin following HIIT training sessions. This means sustained energy levels throughout the day and a greater capacity to burn fat for fuel.(10) HIIT training can also benefit other areas of health, including cardiovascular, metabolic, and cognitive function.(11)
---
3 Tips for HIIT Success

The most difficult thing for many clients is getting started with a new exercise plan. HIIT training sounds daunting, so here are three great tips to consider before you get started.
(Almost) Everyone Can Do HIIT
Ask yourself this question… "Could I run to catch the bus?" If you answered "yes," then you can perform HIIT training. In a recent study, participants felt they had "accomplished something" by completing a session, and they rated it as more enjoyable than steady-state intense cardio.(12)
Early Morning Exercise
The recent research on willpower has uncovered that it ebbs and flows throughout the day. In short, most people have the greatest willpower earlier in the day, making exercising in the morning your best bet for compliance.(13) Since HIIT training is short (could be as little as 30-60 seconds), you should try to carve out the time in the morning.
Reward Yourself
Evolution has hardwired "reward" into our brains. The neurotransmitter dopamine acts as a reinforcer of reward, instructing your brain to seek out food, activity, behavior, etc.(14) To harness the positive power of this feedback mechanism, reward yourself at the end of each week for completing your workouts. [tweet_quote]Motivate yourself to stick with HIIT training with a massage, low-carb dessert or other treat.[/tweet_quote]
Maybe it's a massage, low-carb dessert, etc. Whatever it may be, providing a reward (especially for tasks we don't inherently or initially enjoy) is a great way to boost compliance and the likelihood of achieving your goals.
---
Sample HIIT Programs to Get Moving!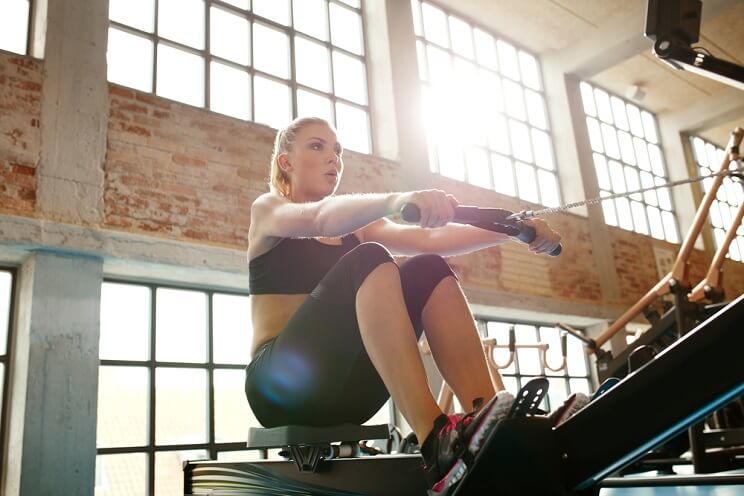 A great advantage of HIIT training is that it adapts itself to your fitness level. For beginners, the initial session can be very short, even just a few minutes, while fitter clients can opt for more exhaustive routines. Find the right approach for you – or perform one each per week – to get your health and body composition back on track.
"The Foundation"
This program is ideal for anyone just getting started with exercise, if you're overweight or struggling with health conditions. It will set the foundation for your fitness going forward and boost your confidence along the way.
Warm-up with a light walk for 5 minutes.
Next, increase your walking speed (moderate intensity) for 2½ minutes.
Return to baseline speed for 2½ minutes.
Repeat 4-5 rounds and perform 4x per week.
"The 10 x 1"
This program is Dr. Gibala's favorite and great for anyone looking to lose weight. It's best suited for intermediate or advanced trainees, but if you're just starting out you can modify it and give it a go as well.(15) (Note: Beginners can start with 3-4 rounds and increase the number of rounds over the following weeks until you reach the prescribed 10 rounds.)
Warm-up for three minutes with a quick walk or jog,
Perform your first sprint at moderate intensity (about 50%) for 60 seconds,
Rest for 1 minute with a moderate walk or light jog.
Perform your second sprint of 60 seconds at a slightly higher intensity than the first sprint.
Continue the cycle, increasing the intensity with each sprint, until you reach 10 rounds.
"The Lung Buster"
This program really gets your heart and lungs pumping. It's best suited for intermediate or advanced trainees, but once again, beginners can jump in and aim to increase the number of rounds over the course of 4-6 weeks. (Note: It's crucial to take the full rest period in order to maximize the training effect. Do NOT shorten the rest periods.)
Warm-up for five minutes with a light row or cycle.
Perform a 30-second MAXIMUM effort cycle or row. (How hard is a max effort? Imagine you're running away from a lion!)
Recover for 4½ minutes at low intensity (i.e., light walk or jog).
Repeat for total of 5 rounds.

The Bottom Line
HIIT training is a great, evidence-based option to dramatically reduce the amount of time you spend exercising, which dovetails with better recovery, reduced stress load on the body and thus a happier thyroid. One of the most common themes for clients who struggle with thyroid dysfunction is trying to outrun their weight gain, fatigue and poor health. Unfortunately, all the extra effort tends to make things worse (not better). Train smart with HIIT routines and you'll be pleasantly surprised how much progress you can make with the minimum-effective exercise dose.
(Read This Next: 21-Day HIIT Challenge)