Do you wake up feeling groggy? If you find yourself cranky and unmotivated in the mornings, this simple workout will ease you into the day with awakening exercises.
Since you just spent the last 5-8 hours lying flat, it's important that you gently begin your movement, stretching out parts that are tight and stiff upon waking and easing your way into an active day.
Each of these 7 moves are beginner-friendly, mobility-focused, and require no equipment other than you.
Looking for an easy way to get started working out?
Grab our FREE Beginners Workout Guide - 3 Weeks To Tighter Abs, Sculpted Arms, And Toned Legs, by clicking here!
Feel free to stay in your pajamas and shoe-less if you like.
To complete this workout:
Perform each of the 7 moves at your own pace for the given number of reps.
Move from one move to the next without resting between exercises.
Take a 1-minute break after completing all 7 moves and decide if you feel up for another round. (You're welcome to do 2 full rounds if the time in your morning permits, but 1 round is enough to feel the benefits.)
Tips:
This mobility-focused workout is gentle enough to be used every day.
If you're new to exercising, you can modify each move by:

Going slowly
Using partial range of motion (going half way)
Performing fewer reps
---
Energizing Morning Workout
Now let's start the morning workout and get our energy flowing!
Superman Lift Ups | 6 Reps


Benefits: Superman Lift Ups work your core and lower back muscles, helping you to start breathing deeply.
How to Do It: Start by lying flat on your belly on a soft surface like a carpet or a yoga mat. Stretch your arms out in front of you with your fists closed tight. Lift your arms, head, neck and chest off the ground as you simultaneously lift your feet and knees off the ground. Keep your legs straight.
Squeeze your butt and lower back muscles as you exhale a deep breath, then inhale as you lower back down to a rested position.
Continue for 6 reps. Take it slow and focus on your form.
Side Plank Reach & Crunch | 5 Reps Per Side


Benefits: This move combines an amazing stretch with a core-activating crunch.
How to Do It: Start in a side plank position, so that your hand is just below your shoulder and not too far out. Stack your feet. Reach your top arm up and over your head, giving your side a good stretch. Then bring your hand behind your head, crunch your upper body and raise your top knee towards your elbow.
Hold that crunch for 2 seconds and then return to the stretched out side plank position. Repeat for 5 reps on the right, then switch and do 5 reps on the left.
Ab Roll Ups | 10 Reps


Benefits: Your hamstrings are likely to be tight and stiff first thing in the morning. These Ab Roll Ups work as a stretch as well as a core strengthener.
How to Do It: Lie flat on your back with your feet flexed, toes pointed up and your legs straight. With your arms overhead, initiate a roll up and reach your arms towards your toes.
Lean forward as much as you can or until you feel a good stretch in the back of your legs and your lower back.
Slowly roll down with control, returning to the starting position. Make sure to compress your abs and tuck your tailbone on the way down.
Your legs should remain actively flexed throughout the movement.
Continue rolling up and down in a smooth motion for 10 reps total.
Jumping Jacks | 20 Reps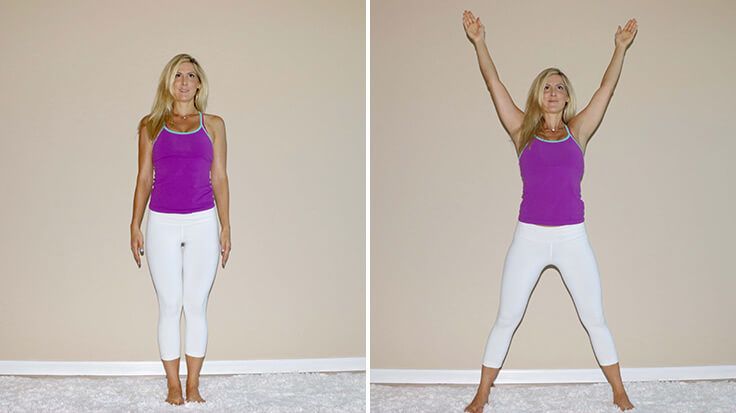 Benefits: Getting your heart rate up is fantastic for bringing new and fresh energy to your body. Jumping jacks also act as a dynamic stretch for your arms and chest muscles, opening your chest and improving posture.
How to Do It: Stand tall with your hands down by your sides and your feet together.
Jump your feet apart and raise your arms up to a Y position over your head. Jump back to the starting position and repeat.
Your goal should be to stay light on your feet with minimal noise. Jumping lightly is not only better for your joints, it also means you're engaging more of your muscles and will get a better result.
Continue jumping together and apart for 20 total reps, counting in and out as 1 rep.
Split Squat with Overhead Reach Back | 12 Reps Total

Benefits: These split squats will send wake up signals to your glutes, hips and legs, and the overhead reach back feels amazing for opening up your shoulders and chest.
How to Do It: Start by taking a split stance, with one leg extended in front and one leg extended out behind you.
Interlace your fingers and reach your arms all the way straight over your head. Tilt your arms back until you feel a good stretch across the front of your body, especially your hip flexor.
Squat down so that your front leg makes a 90° bend. Your back leg should also make a 90° bend. As you squat down, reach your arms and entire upper body back a little further, maintaining your balance and taking a deep inhale.
Exhale your breath and return to the starting position.
Switch legs and repeat the same stretch on this side.
Continue alternating sides for 12 total reps.
Spiderman Lunges | 10 Reps Total


Benefits: These Spiderman lunges will have your hips thanking you. You'll also feel an added bonus of core and arm strengthening each time you pass through that plank position.
How to Do It: Start in a High Plank position with your hands just below your shoulders.
Bring your right foot up and just outside of your right hand.
Place that foot firmly onto the floor and lean into that side, giving your hips and thighs a good stretch.
Return to plank position and repeat on the other side.
Alternate sides for 10 reps total.
Deep Squat with Rotational Reach | 6 Reps


Benefits: Deep Squats are especially great at opening and stretching tight hips. Adding this rotational reach takes it to the next level.
How to Do It: Start by standing with your feet wider than shoulder width, with your toes slightly pointed outward. Squat down all the way to the bottom as far as you can go.
Make sure to keep your weight in your heels and lean more back than forward. Once you are as deep in your squat as you can get, press your right arm against the inside of your right leg and reach your left arm up overhead.
Rotate slightly by reaching that left arm back while pressing that right arm into your leg.
Do both sides of the rotational reach per squat and then stand up. Repeat by doing another squat, then rotational reaches on both sides.
Complete 6 full reps.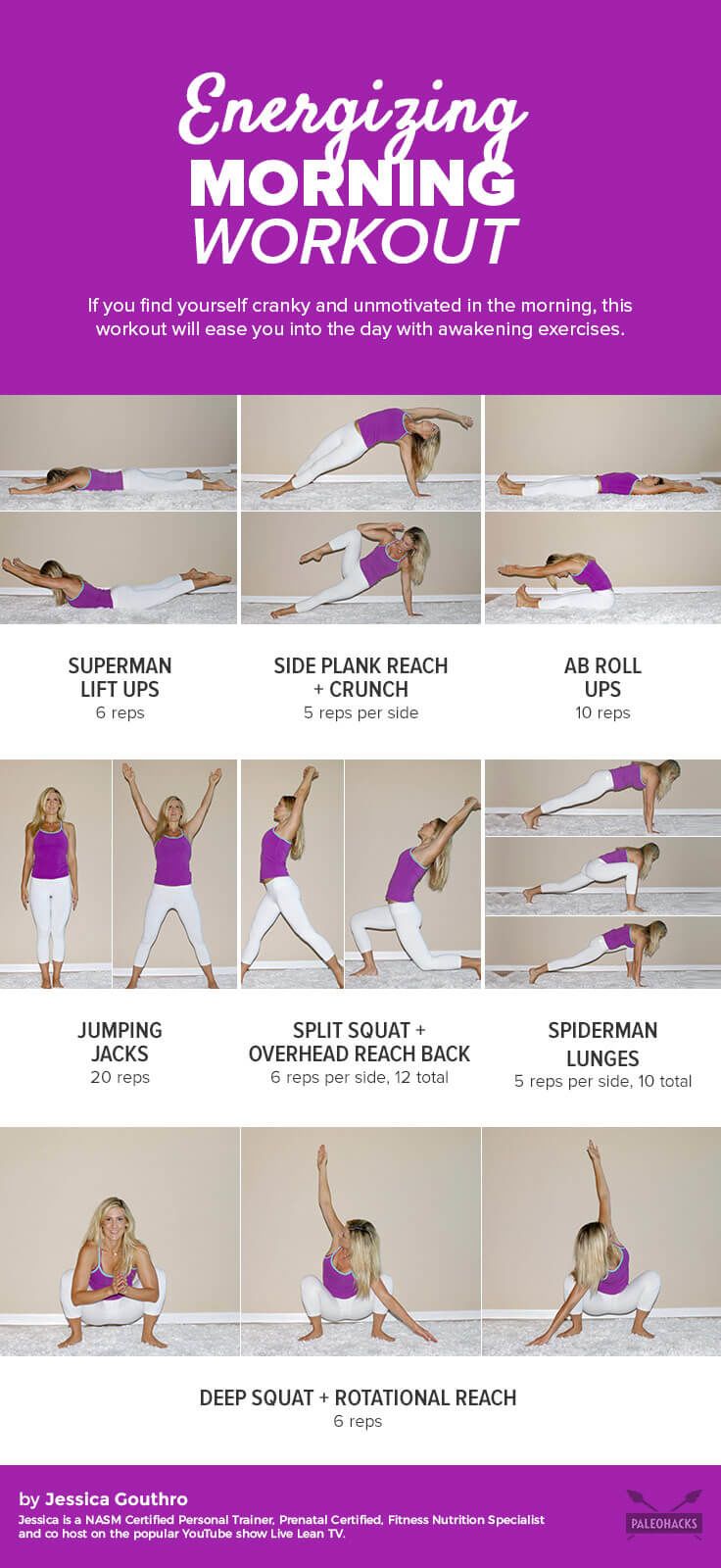 (Your Next Workout: 10 Energizing Yoga Poses You Can Do In Bed)