Before you toss that used tea bag, check out these 13 surprising ways you can use them to flavor food, deodorize shoes, degrease a pan or even make a spa-worthy hand scrub!
Full of cleansing tannins and antioxidants, tea does far more than energize your morning or soothe your evening. With these household tips and beauty hacks, you can harness the healing properties of your favorite herbal brews beyond the teacup. Tea bags are very absorbent and can neutralize odors from stinky shoes to the refrigerator.
Green tea, peppermint, jasmine, chamomile and lavender all have their own powerful cleaning and healing properties that are still present after that cup is brewed. It's no wonder the tea bag is no one-trick pony!
Want naturally radiant skin? We've created a FREE guide to give you the best tips & tricks for natural skincare.
Click here to get your FREE copy of our Skincare Guide!
So go ahead and give one of these ingenious tips a try. You'll save money and amaze family and friends with your know-how.
Make Your Own Paleo Jasmine Rice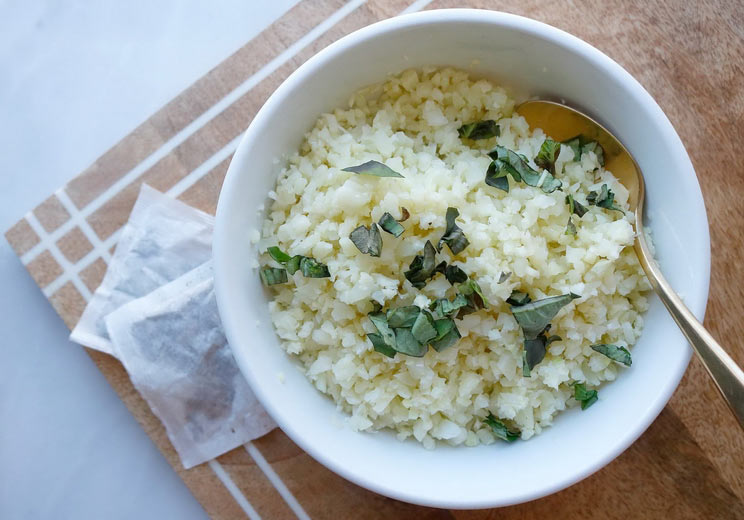 Add a jasmine tea bag to ¼ cup boiling water and steep for 5 minutes. Pour hot tea over cauliflower rice.
To make cauliflower rice: Add 2 cups cauliflower florets to a food processor and pulse until evenly shredded.
Freshen Up Carpets and Rugs
Open tea bags (or use loose leaf tea) to sprinkle on the carpet to neutralize odors for one hour, then vacuum. Use green, lemon or mint teas for a fresh scent!
Deodorize the Trash, Refrigerator and Your Shoes
Set used tea bags aside to dry, then add them to the bottom of every new trash bag to neutralize bad smells. To deodorize the refrigerator, add loose green tea to a small bowl and set in the back of the fridge. You can also add a used, dried peppermint tea bag in stinky shoes to get them smelling fresh in no time!
Make Your Own Air Freshener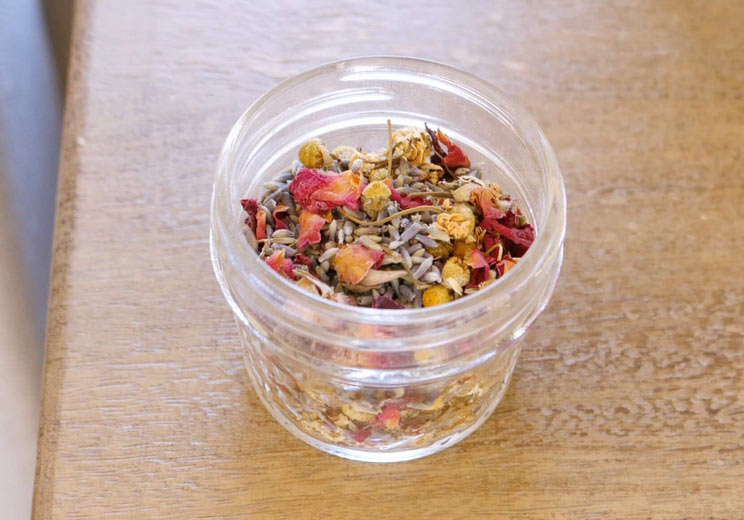 Open your favorite strong tea bags and blend them together to create a homemade potpourri with zero artificial scents. For a sleepytime blend, mix 2 tablespoons of dried rose and chamomile with 1 teaspoon of dried lavender in a jar. Remove the lid at bedtime. For the kitchen or bathroom, try a stronger potpourri blend, like peppermint or chai.
Clean Dirty Dishes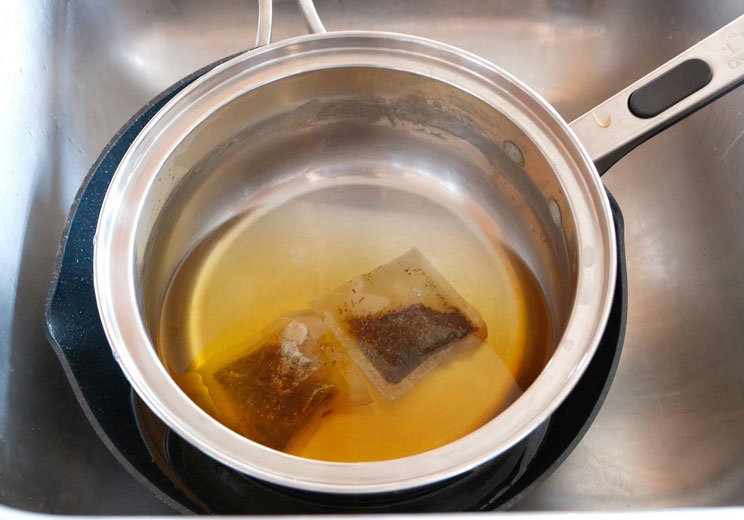 Greasy dishes are effectively cleaned by the tannins in tea, which work to break down grease as dishes soak. Fill the sink with hot water, add dirty pots and pans, soak them with tea bags for a few hours, then wash and clean as usual.
Deter Household Pests
Peppermint tea deters mice and bugs because they are put off by the mint scent, while lavender tea helps repel mosquitos and spiders. (1,2) Place a used tea bag in areas that you might find these pests, like the corners of a garage, or keep them near doors to repel them from entering.
Create a Hand Scrub
Jennafer Ashley
Create a Hand Scrub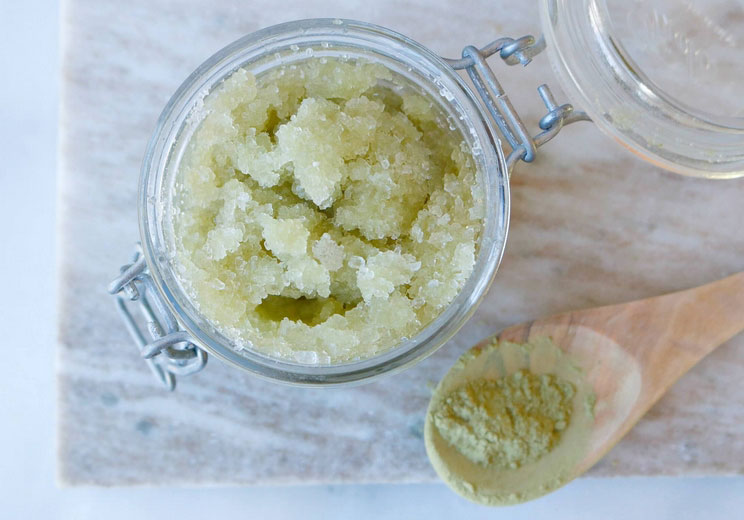 Cook Time:
5 mins
5 minutes
Prep Time:
5 mins
5 minutes
Create a Hand Scrub
Green matcha tea helps deodorize hands, while ultra-moisturizing coconut oil keeps them silky smooth.
Ingredients
1 dried green tea bag

2 T hot water

2 T melted coconut oil

½ cup coarse sea salt
Instructions
Empty contents of tea bag in a jar with hot water.

Mix in coconut oil, then add salt.

Stir well to coat salt.
Double Condition Your Hair
Rosemary and black tea are great for restoring hair's shine and boosting growth. Steep 2 black tea bags in 2 cups of boiling water. Let cool and pour into a bottle. After washing and conditioning as usual, pour the tea over your hair in the shower and leave on for a few minutes before rinsing.
Soak Your Feet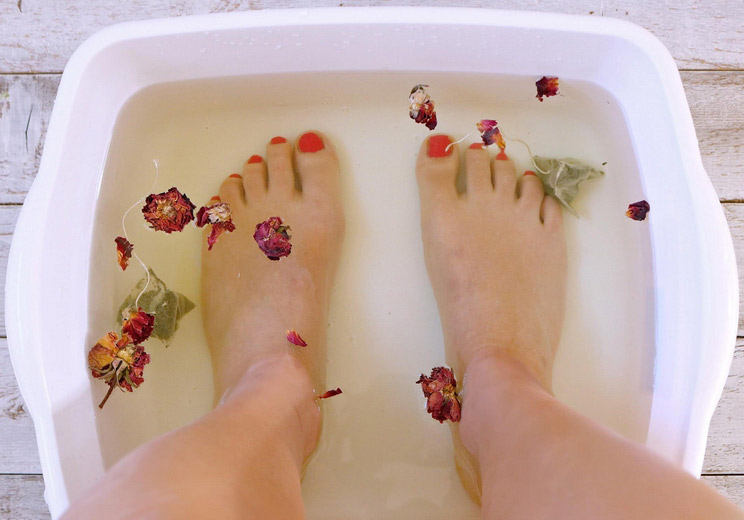 Enjoy a day at the spa in the comfort of your own home by adding rose petals and peppermint tea bags to a hot water foot soak, along with magnesium-rich Epsom salts. Peppermint deodorizes and refreshes, while rose tea leaves have antiseptic and anti-inflammatory properties great for achy feet.
Renew Wood Surfaces
Tannic acid in tea is useful for adding life back to dull wood floors and surfaces. Brew 2 black tea bags in boiling water and cool. Dip a cloth in the tea to wipe wood surfaces.
Enjoy a Tea Bath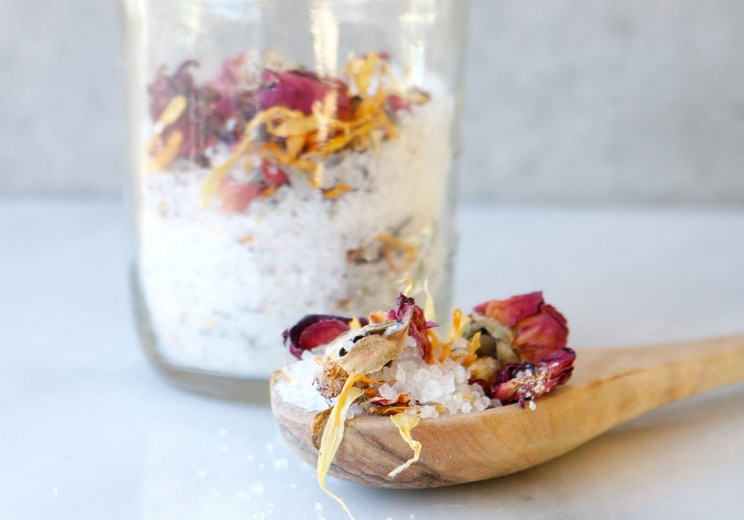 Tea leaves combined with Epsom salt make for the most luxurious of baths. Combine calming lavender leaves, anti-inflammatory calendula and immune-boosting rose tea in a small jar with Epsom salts and add to hot bath. Sink in and relax your worries away.
Soothe Irritated Skin
Chamomile has a calming effect on skin, reducing redness associated with rosacea. Soak 3-6 chamomile tea bags in hot water for 10 minutes, then refrigerate until chilled. Soak a cotton ball or cloth in the tea and apply to the red, irritated skin on your face or body. Lay back and let it sit for 15 minutes before rinsing off.
Get Windows Sparkling
Ditch the Windex and use a home-brewed glass cleaner instead! Add 3 green or black tea bags in 1 cup of boiling water. Cool, then pour into a spray bottle. Tannic acid in tea is great for cleaning windows for a streak-free shine. Spray on glass surfaces and wipe dry.

(Read This Next: 17 Creative Ways to Recycle Used Coffee Grounds)