We all deal with pain or tension in the neck from time to time, but not everyone has the time, or cash, to spend on professional neck massages.
Learning some simple do-it-yourself neck massage techniques can help you find relief whenever and wherever you need it, no appointment necessary.
For the exercises below, you won't need any complicated equipment or even a whole lot of time. You'll just need:
a tennis ball
a towel
a yoga block
You can spend about 30 seconds to 1 minute on each move to stretch and massage your neck.
Looking for an easy way to get started working out?
Get our FREE Beginners Workout Guide – 3 Weeks To Tighter Abs, Sculpted Arms, And Toned Legs here!
Tennis Ball Neck Rub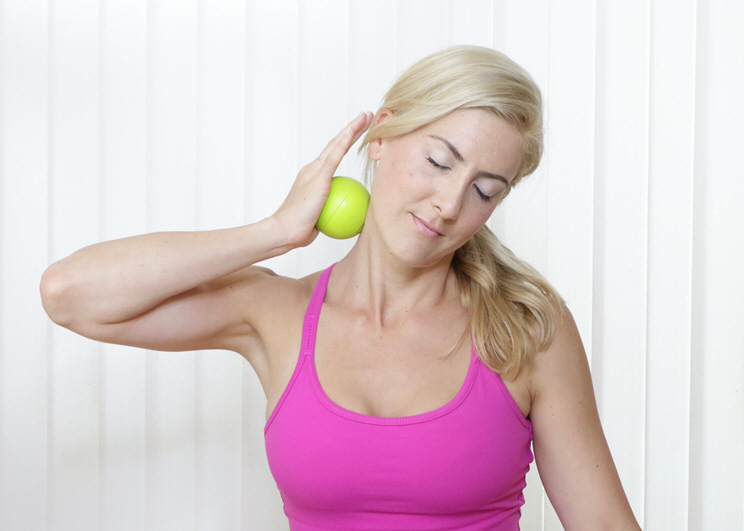 Tilt your head to the side.
Place a tennis ball on the stretched side of your neck.
Press into the ball with your palm and make mini circular motions.
Repeat on the other side.
Tip: You can control the pressure. For a more intense massage, press harder and use your palm. For a light rub, press gently with your fingertips on the ball.
Tennis Ball Back of Neck Massage (Up-Down Motion)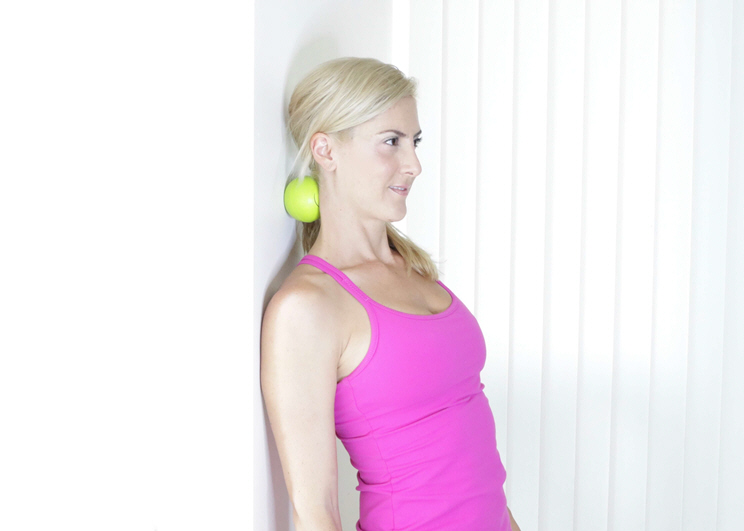 Stand up against the wall and place a tennis ball directly behind your neck on one side of your spine (on the muscle, not on the spine).
Press your neck back until you feel the amount of pressure you like.
Step about one foot away from the wall so that you can lean back.
Bend your knees slightly to roll up and down to massage your neck.
Switch the ball to the other side of your spine and do the same.
Tip: You can control the pressure by how hard you press your neck back. Do not massage directly on your spine, it will not feel good, will not help you alleviate the tension in the muscles, and can be potentially harmful. Always avoid pressure directly on your bones.
Tennis Ball Side of Neck Massage (Pressing In Motion)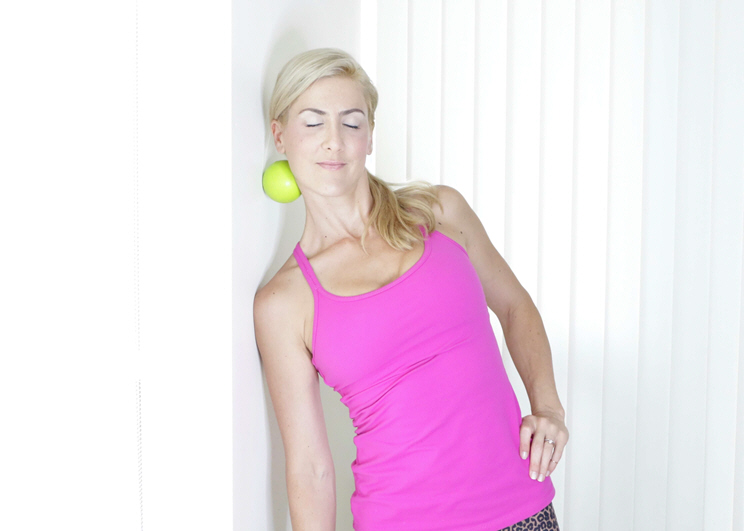 Turn so that your shoulder is facing the wall.
Place the ball on the wall with one hand, and lean towards it with the side of your neck.
Drop your shoulder to elongate the side of your neck.
Find a tight spot and press in towards it, hold that pressure point and breathe deeply.
Make small adjustments, moving the ball up or down, front or back, until you find the spots that feel the best.
Continue pressing in and out with small motions to massage the muscles of your neck.
Tip: Using a larger ball, like a softball, might make this stretch easier if you're having trouble getting your shoulder out of the way.
Tennis Ball Trapezius Massage (Mini Circular Motions)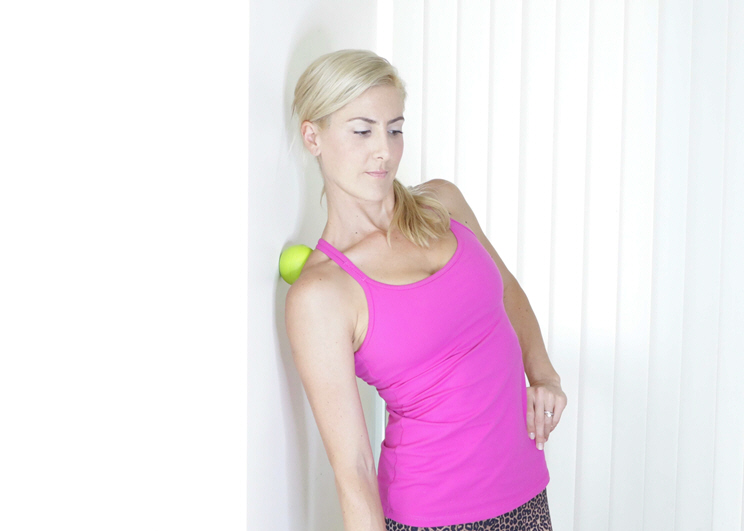 Line the ball up right behind your shoulder on your trapezius muscle (the muscle that runs from the back of your neck across the backs of your shoulders).
Tilt your body towards the side you are massaging.
Keep your hips and knees slightly bent so that you can make mini circular motions to massage your traps.
Tip: If you have trouble making mini circles, you can also try up-down, side-to-side, and or in-and-out motions, they all feel great.
Tennis Ball and Block Skull Massage (Side-to-Side Motion)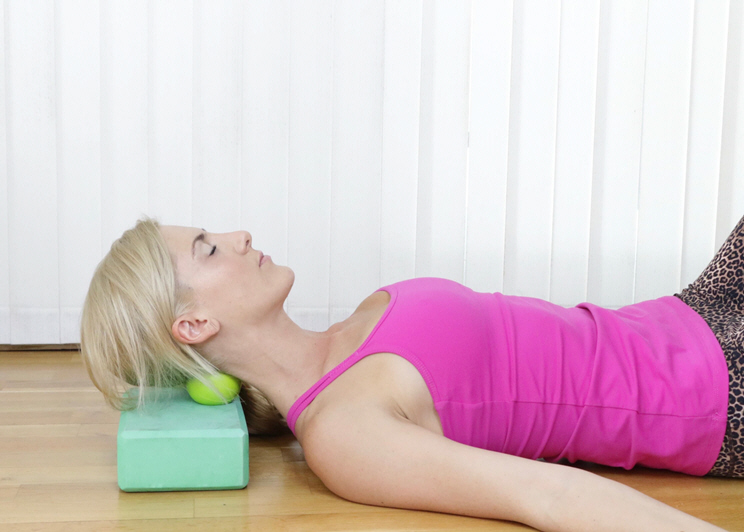 Place the block flat down on the ground long ways.
Place the ball on top of it just at the front edge.
Lie down so that the base of your skull lines up with the ball.
Press your shoulders down to the floor to elongate and stretch your neck.
Create mini gentle rocking motions with your head to allow the ball to massage the base of your skull.
Tip: This one is great to relieve a headache. You do not have to press down too hard, just lie there, breathe and let gravity do the work.
Towel Pull Neck Stretch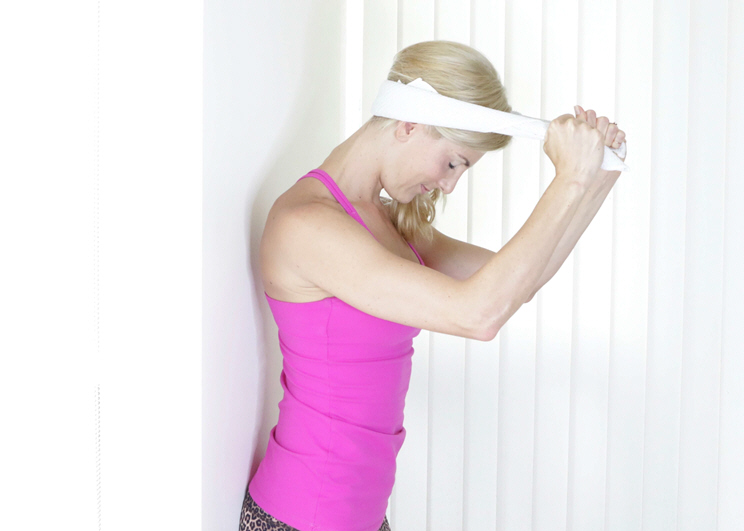 Stand near a wall, facing out, with your shoulders against the wall.
Roll up a towel and loop it around the base of your skull.
Grab the two ends with your hands and pull forward to stretch the back of your neck.
Keep pressing your shoulders towards the wall as you pull the towel forward.
Tip: You can use a belt, scarf, or yoga strap instead of a towel.
Towel Pull Neck Side Stretch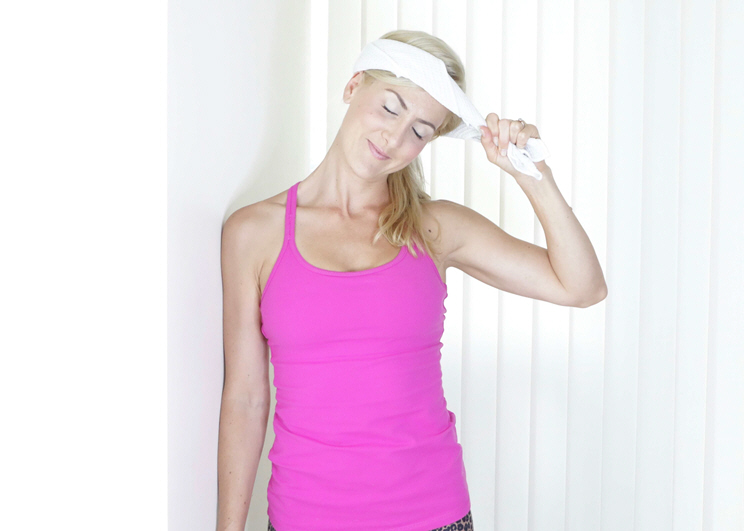 Stand with one shoulder against the wall.
Roll up a towel and loop it around the side of your head, just above your ear.
Grab the two ends with one hand and pull to the side to stretch the side of your neck.
Press your shoulder towards the wall as you pull the towel to the side to help lengthen that side of your neck.
Repeat on the other side.
Tip: Tilt your chin slightly down to feel the stretch all the way from your shoulder to your head.
Final Notes
Our necks are one of the main places to hold on to tension from daily stress.
By doing these simple self-massages, you'll not only feel better in your neck, but you'll help reduce your overall stress and feel more relaxed.
Revisit these stretches and self-massages any time you feel pain or tension in your neck.

(Your Next Workout: 10 Easy Shoulder Stretches To Fix Pain)