Over 30 million Americans wear contact lenses on a regular basis, which are approved and regulated by the FDA (1).
However, as one of the most convenient alternatives for improving your vision – aside from wearing glasses – these seemingly harmful pieces of plastic may be causing damage to your health.
Here are seven big risks that come with wearing contact lenses, and tips on how to safely clean, store and wear contact lenses.
Want naturally radiant skin? We've created a FREE guide to give you the best tips & tricks for natural skincare.
Click here to get your FREE copy of our Skincare Guide!
7 Dangers of Wearing Contact Lenses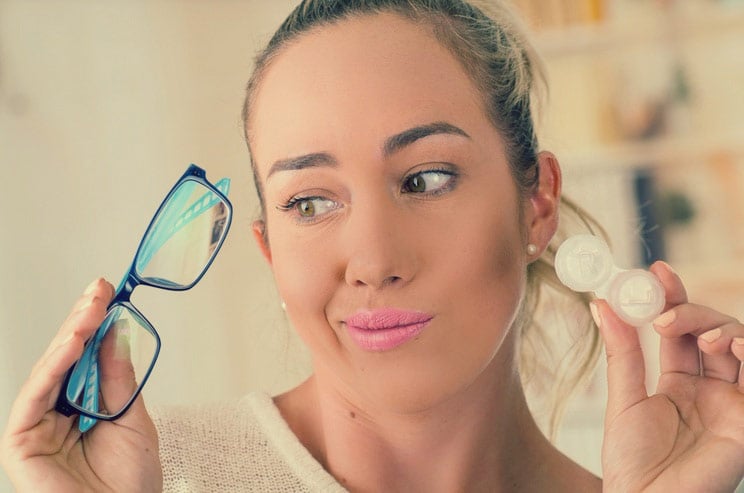 1. Greater Risk of Eye Infections (Especially Keratitis)
Keratitis, the most common infection that can result from wearing contact lenses, is caused by dust, bacteria, viruses, and in rare cases, eye parasites (2). If there are scratches on your contact lenses, they can scrape the outer surface of your cornea, making it easier for bacteria to get in and cause an infection. These scratches on your cornea are also known as corneal abrasion.
Keratitis affects the cornea and causes pain, redness, blurred vision, discharge, and/or watery or irritated eyes (3). Keratitis can happen for a number of reasons: when you don't take your contact lenses out at night, wearing your contacts while swimming, exposing your contacts to any type of water, not cleaning your contacts properly, wearing old contact lenses, or wearing contacts that aren't properly fitted to you (a major concern for non-prescription cosmetic lenses – which is why they're not considered safe to use).
Research shows that keratitis is associated with all forms of contact lenses, including daily disposable contact lenses, silicone hydrogel lenses, and soft contact lenses. However, one study showed the rate of keratitis was significantly higher in those who wear extended hydrogel contact lenses (4).
Contact lenses also leave you more susceptible to giant papillary conjunctivitis (pink eye), which is also sometimes called contact lens-induced papillary conjunctivitis (CLPC) (5).
2. Vision Loss and Blindness
When eye infections or corneal ulcers from contact lenses are left untreated, they can cause vision impairment and permanent blindness. This is especially true for bacterial keratitis, which can damage the structure and shape of the cornea (6).
3. Corneal Scarring
If you're allergic to the material used to make the contact lenses (plastic or silicone), or keep contact lenses in for too long, it can cause corneal inflammation and injury, which can lead to scarring and permanent damage to your vision (this is also extraordinarily painful, so corneal scarring is something you want to prevent at all costs) (7).
4. Reduced Corneal Reflex (Which Protects Your Eye from Outside Dangers)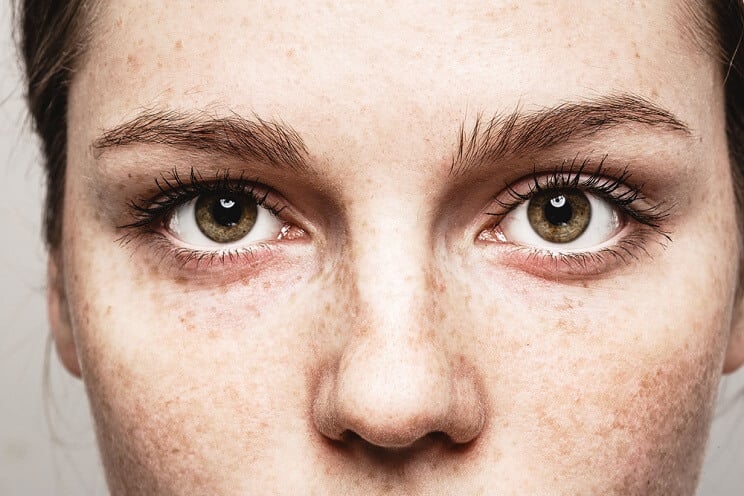 Blinking is probably not something you pay much attention to during the day, since it's an involuntary movement – but it's a movement that's crucial to keeping your eyes and vision healthy.
Blinking is a protective mechanism that helps keep outside irritants from damaging your eyes, such as chemicals in the environment, dust, bacteria, insects, and even physical contact. Just imagine if someone were about to poke your eye, and your body didn't "get the message" to close your eyelids? [tweet_quote]Regularly wearing contact lenses can interfere with your blinking reflexes by reducing your corneal sensitivity.[/tweet_quote]
Believe it or not, regularly wearing contact lenses can interfere with your blinking reflexes by reducing your corneal sensitivity (8).
Blinking also helps keep your eyes from drying out by producing tears. When your corneal reflexes are reduced and you're not blinking as frequently, you can end up with dry eye syndrome – a condition that's characterized by itching, redness, and pus.
5. Dry Eye Syndrome
Itchy, irritated, dry, red eyes are the most common complaints when wearing contact lenses, and these symptoms usually indicate dry eye syndrome (9). You can get dry eye syndrome even if you don't wear contact lenses, but it commonly happens when you first adjust to wearing contacts, when your contacts dry out as you're wearing them, or wear contacts that don't fit you properly (again, another caution with purchasing non-prescription cosmetic contacts).
As mentioned above, contact lenses can reduce the amount of tears your eyes produce, which act as a "moisturizer." Soft contact lenses can actually absorb these tears, drying your eyes out even further (10).
Studies done on dry eye syndrome and contact lenses show that dry eye syndrome affects both short- and long-term soft contact lens wearers (at least 2+ years) (11). Although it's less common, dry eyes can also cause corneal scarring.
6. Ptosis (Eyelid Drooping)
Ptosis is the technical term for droopy upper eyelids, and research shows there's a direct link between wearing both soft and hard contact lenses and ptosis (12). However, studies show that people who wear hard contact lenses are at a 20 times greater risk of developing ptosis than those who wear soft lenses (13).
While it's not completely understood exactly how contact lenses can cause your eyelids to droop, prolonged wearing of hard contact lenses is said to be the primary cause of ptosis (14). Today, however, soft lenses are more commonly prescribed than hard contact lenses.
7. Corneal Ulcers
Eye infections caused by contact lenses can lead to corneal ulcers, which are painful, open sores on the outer layer of the cornea.
Keeping your contact lenses in for too long is the most common cause of corneal ulcers, and research suggests that those who wear extended wear contact lenses (which can be worn for several consecutive days) are 10 times more likely to end up with corneal ulcers (15). While anyone who wears contact lenses is at risk, daily disposable contact lenses are said to be the least problematic when it comes to ulcers (16).
Of course, avoiding contact lenses altogether isn't always an option. If you do wear contact lenses, here's how to take care of them safely to reduce your risk of infection, general tips on how to clean them, store them, and the safest options for regular contact lens use.
---
Safe Ways to Take Care of Your Contact Lenses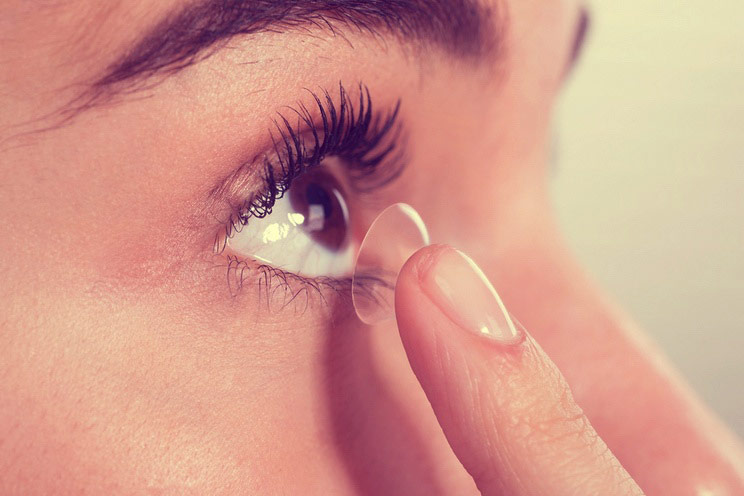 The correct way to take care of your contact lenses will depend on the type of lenses you're using. Always be sure to follow your optometrist's advice for contact lens care specific to your lenses. Here are a few general tips for caring for all types of contact lenses, which can help reduce your risk of infections and serious health complications.
Wash and Dry Your Hands Before Handling Your Lenses
To prevent germs and bacteria from contaminating your lenses, always thoroughly wash and dry your hands before applying, cleaning, or removing them. Use a natural, unscented, non-oily soap to avoid oil and chemicals from coming into contact with your lenses. Dry your hands with a lint-free towel to keep your contact lenses clean.
Avoid Getting Water Near Your Lenses
When you wear contact lenses, one of the most important things to do is to prevent water from getting anywhere near them. Not only can bacteria enter your contact lenses through water and cause an infection this way, but water can also change the shape of your lens and cause it to stick to your eye – creating yet another hazard for pain, swelling, and inflammation.
Keep Your Fingernails Short
Keeping your nails short and clean also helps keep your contact lenses clean.
Fingernails are home to many different types of bacteria, including yeast. If yeast comes in contact with your eye, it can cause a fungal infection, which comes with swelling, pain, and redness (17). While your contact lenses should only ever come in contact with your fingertips (not your nails), this is a good precaution to take.
---
How to Clean and Store Your Contact Lenses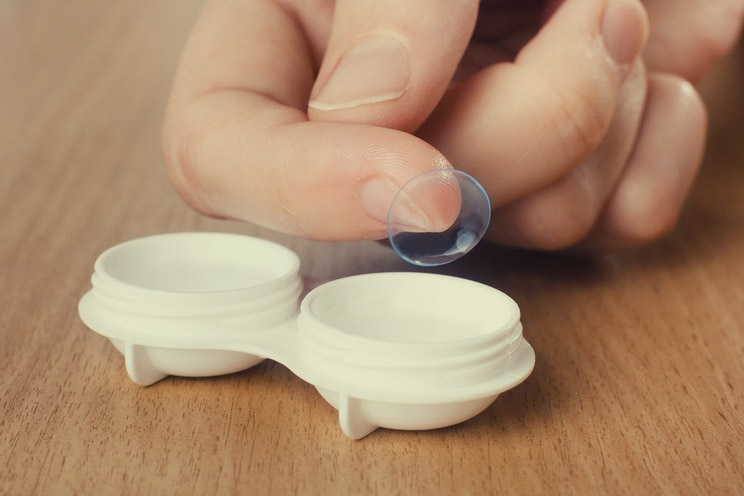 Each type of contact lens will be compatible with different types of contact lens solutions. Some solutions are also more efficient at keeping lenses cleaner than others. For example, saline solutions don't disinfect contact lenses and should only be used for rinsing, never for disinfecting or storing.
When it comes to cleaning your contact lenses, clean one lens at a time. Never rinse or store them in water, which does not disinfect. Use the appropriate solution for your specific type of lens, as recommended by your optometrist. [tweet_quote]Once your lenses are cleaned and disinfected, store them in a closed lens storage case.[/tweet_quote]
Once your lenses are cleaned and disinfected, store them in a closed lens storage case. The lens storage case will be divided into two: one side for each lens. It's important to keep your lenses separated to avoid mistaking your left eye contact for your right eye contact.
Your lens case should be cleaned and refilled with fresh storage solution every time you wear your contacts, and rinsed and emptied each time you remove your contacts from the case.

(Read This Next: Here's Why Your Eye Keeps Twitching & 5 Natural Remedies to Stop It)