These Paleo Rice-less Krispies pack all the ooey gooey goodness of the classic childhood favorite.
Smooth, buttery and chewy, these Rice-less Krispies-inspired treats are made with only four ingredients – raw almonds, macadamia nuts, nut butter and honey – and require zero baking. High in protein and fat, these treats are guaranteed to satisfy any hunger craving!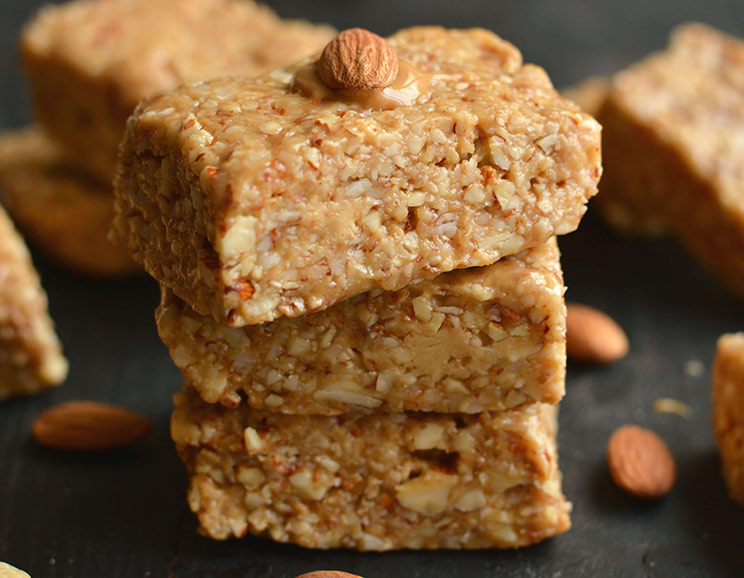 Be sure to use raw nuts for this recipe, as they have all the essential oils and fats for getting the Rice-less Krispies texture just right. Roasted, salted or sweetened nuts will alter the taste and texture. Pulse the nuts in a food processor until just crumbly – don't over blend, or you might end up with nut butter!
Love Almond Flour Recipes?
Get our FREE Almond Flour Recipe Cookbook here!
Next, combine the crumbly nuts with nut butter and honey to make everything stick together. Any Paleo-friendly nut butter will work, but we love cashew and almond butters best for a nice rich flavor. You'll need a minimum of a ¼ cup of honey to hold the bars together, but you can substitute the rest with more nut butter if you prefer your Krispies a little less sweet.
Pack these treats in a lunchbox for a midday snack, or enjoy them as a satisfying dessert.
Megan Olson
Chewy Rice-less Krispies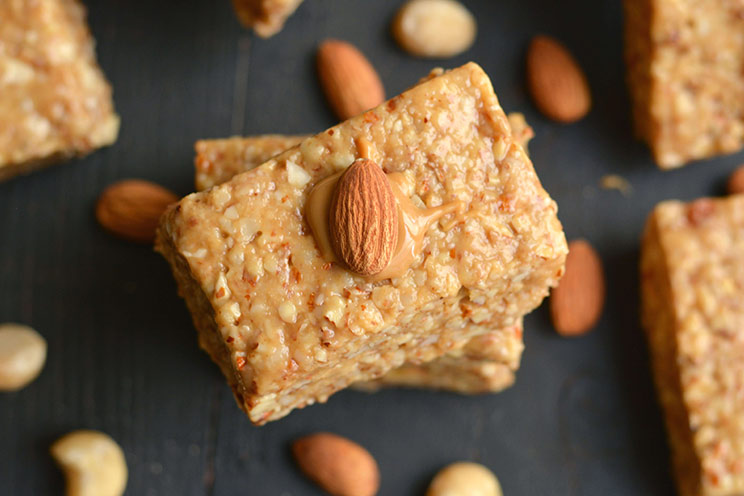 Prep Time:
30 mins
30 minutes
Chewy Rice-less Krispies
These Paleo Rice-less Krispies pack all the ooey gooey goodness of the classic childhood favorite.
Tools
Mixing bowl

9-inch loaf pan

Parchment paper

Food processor
Ingredients
1½ cups raw almonds

1 cup raw macadamia nuts

½ cup creamy, unsalted almond or cashew butter

1/3 cup honey
Instructions
Place macadamia nuts and almonds in a food processor or high-speed blender. Pulse several times until the nuts are broken down into a crumbly mixture.

Transfer the nuts to a large mixing bowl. Add nut butter and honey. Stir to combine with the nuts until fully incorporated.

Transfer the mixture to a loaf pan lined with parchment paper.

Press the mixture firmly into the pan and corners with your fingers.

Place in the refrigerator 2 hours (minimum) to set.

Remove from the refrigerator and cut into 8 bars.
Tip: Store your bars in the fridge to prevent them from melting.
Looking for Paleo ingredients? Here are a few we'd recommend:
Almond butter (Barney)
Cashew butter (Georgia Grinders)
Raw Honey (Bee Farms)

(You'll Also Love: 26 Paleo Indulgences That Are Better Than Junk Food)